Posted: April 11, 2012
| Author: kat
|
Filed under:
meat recipes
| Tags: food, Meat, menu, short ribs, steak
|
5 Comments »
Typical she cooks, he eats scenario…
While having Pinkberry, we were deciding what we should make for dinner. He mentioned that he had bought short ribs from Costco. So I quickly did a google recipe search for a marinade with a short marinating time and I stumbled upon  this. Just looking at the title of that recipe got me excited! So we did a quickie grocery run to Trader Joe's to get our missing ingredients.
When we got home and he showed me these big chunks of beef, I was a bit flabbergasted because they were nothing like my beloved Korean bbq ribs. So cooking time is way off from the suggested cooking time from the recipe and we had to use a meat thermometer to check to see if the meat was safe for eating.
Anyways, the marinade is the best part! To make the marinade, you will need 1/3 cup of grape seed oil…(I finally got measuring cup spoons! Not the cutest, but they'll do for now ;)
Grate lots of fresh ginger! There really is no such thing as too much ginger for this recipe. If you love the flavors of ginger then use a whole chunk like me :)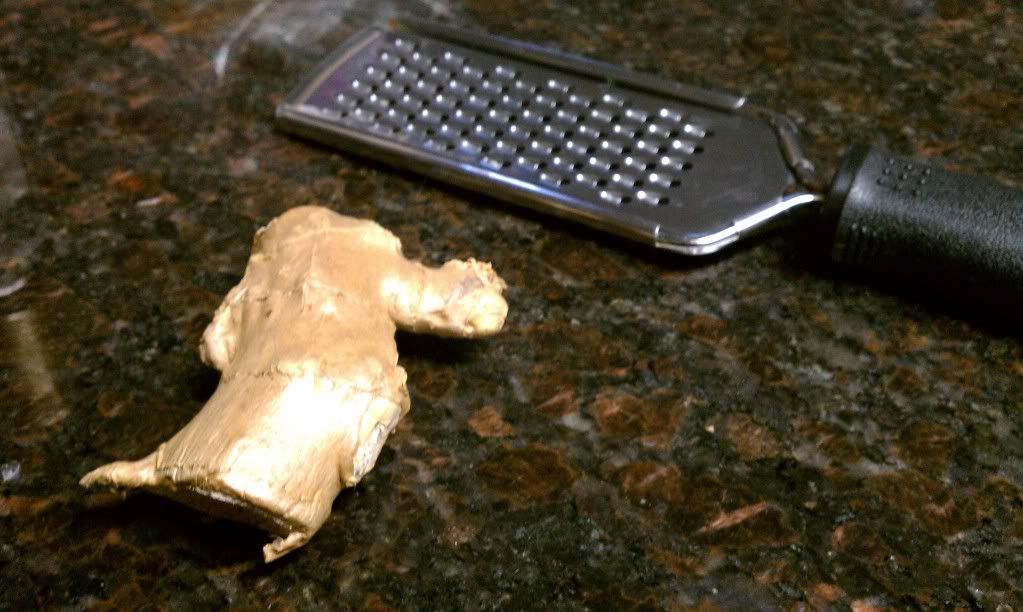 Warm the grape seed oil in a small sauce pan. Add brown sugar and stir until the sugar has softened. Don't worry if it looks funny because the oil and the brown sugar will still be separated, it'll all come together when you add the soy sauce.
---