Posted: August 22, 2012
Filed under: meat recipes, sides recipes
| Tags: arugula, caprese salad, food, Insalata Caprese, prosciutto, recipes, Salad
2 Comments »
This simple insalata caprese is a new summer staple. Everything about this salad is just so fresh and packed with flavor. Just a lot of diced roma tomatoes and a bag of arugula, tossed with some good olive oil and a little bit of salt and pepper, YUM!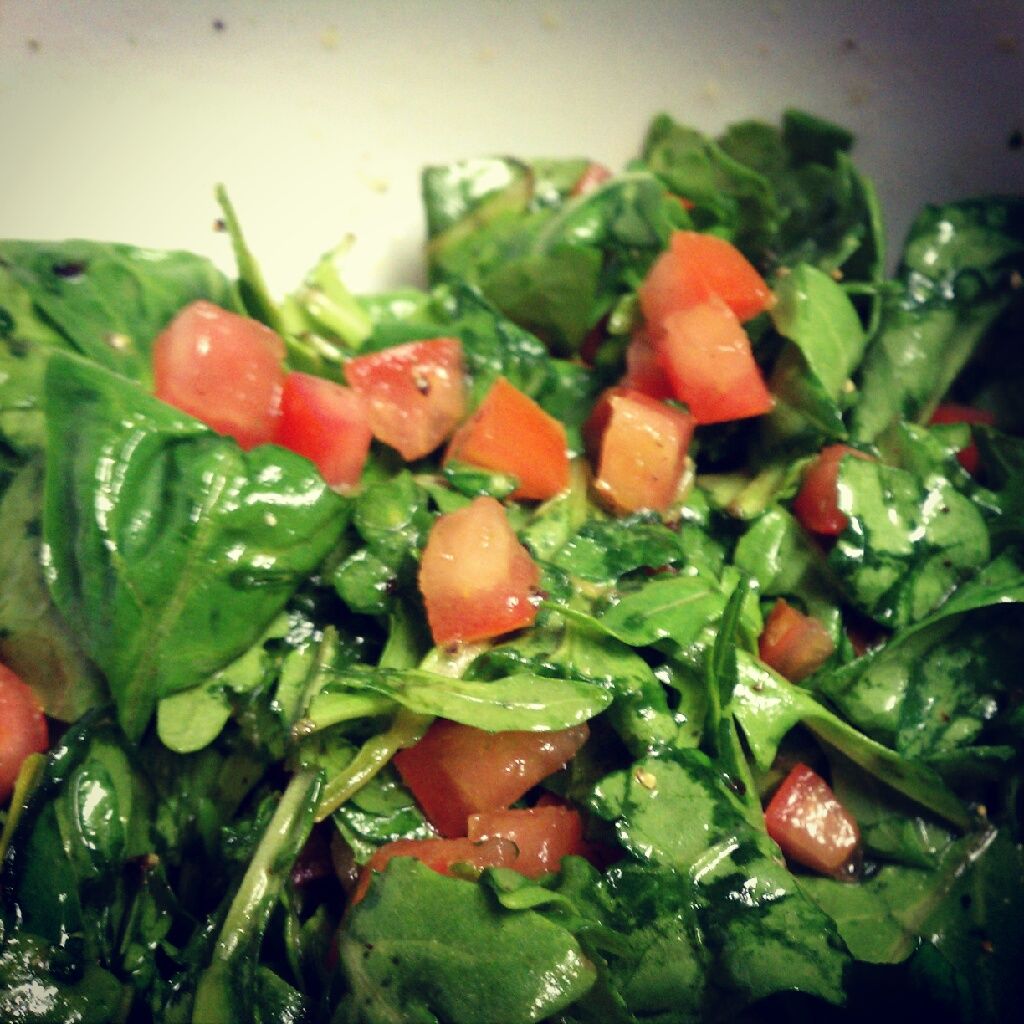 To add in a bit of more flavor and color (err white is not a color lol) to the salad, add in a few fresh mini balls of mozzarella cheese. The Ciliegine baby mozzarella balls are my fave!
Don't get fooled that you won't be full from this salad because you will, trust me! Add in a few slices of paper thin prosciutto di parma and you'll have the ultimate summer salad!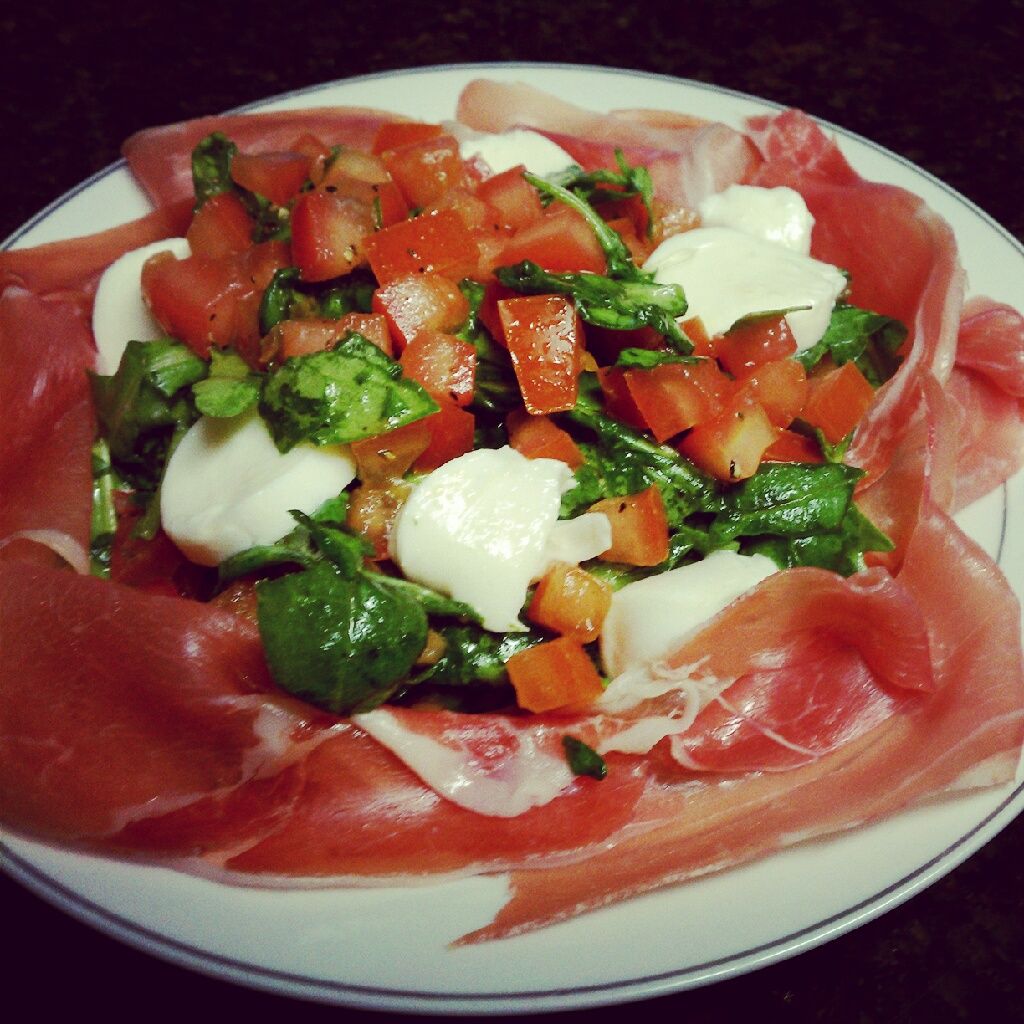 Perfect for lunch or a late-afternoon dinner for two :)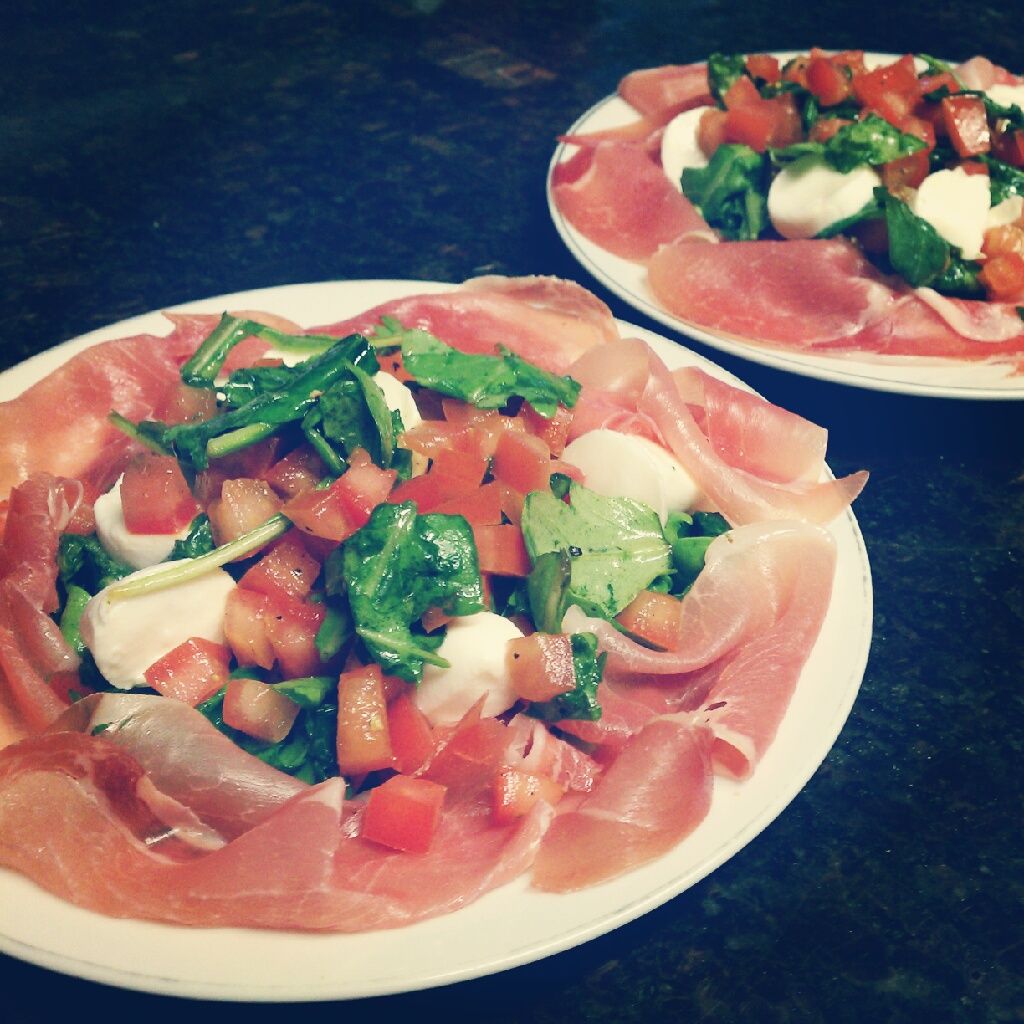 Hope you're having a fantastic evening! What's on your dinner menu tonight?
xoxo, kat
Insalata Caprese with Prosciutto and Arugula (slightly adapted from The Tasteful Life)
6 Roma Tomatoes, diced
Arugula
fresh Ciliegine Mozzarella Cheese
Prosciutto di Parma
1 small Lemon
Olive oil for tossing
salt and pepper to taste
Directions:
 Dice roma tomatoes.
Cube the ciliegine mozzarella cheese or leave whole.
In a medium bowl, toss the diced tomatoes and arugula with olive oil and the juice of one lemon.
Place the tossed arugula on plates or bowls.
Arrange however many slices of prosciutto di parma around the edge of the plate.
Eat and enjoy!
---
Posted: August 1, 2012
Filed under:
sides recipes
| Tags: caesar salad, croutons, food, lemon, lemon caesar salad with homemade croutons, Recipe, Salad, sides
2 Comments »
Meet the faux Caesar.
Just as yummy as the original and equally delicious and sans anchovies! This has quite possibly become my new favorite citrus based salad dressing. It's all lemony goodness, so if you love lemons then this is the dressing for you! And the croutons…OMG why didn't I make an extra batch to munch on??!
This is such a great, quick, and easy way to make homemade croutons without touching the oven!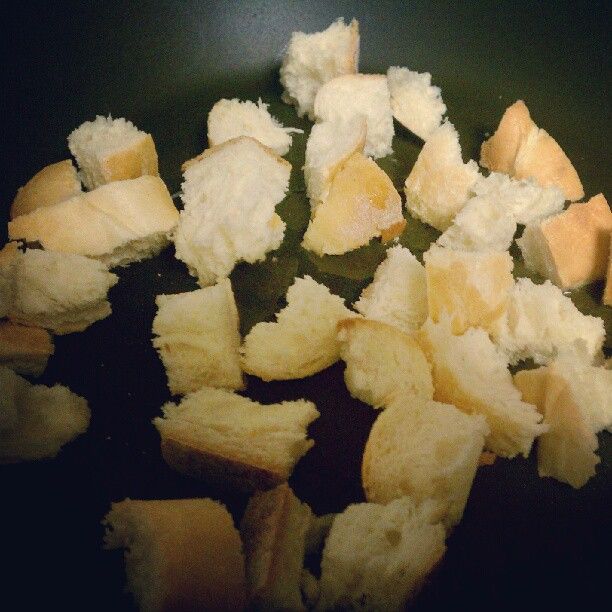 And look how crisp and golden they turned out just from a few minutes on a hot skillet!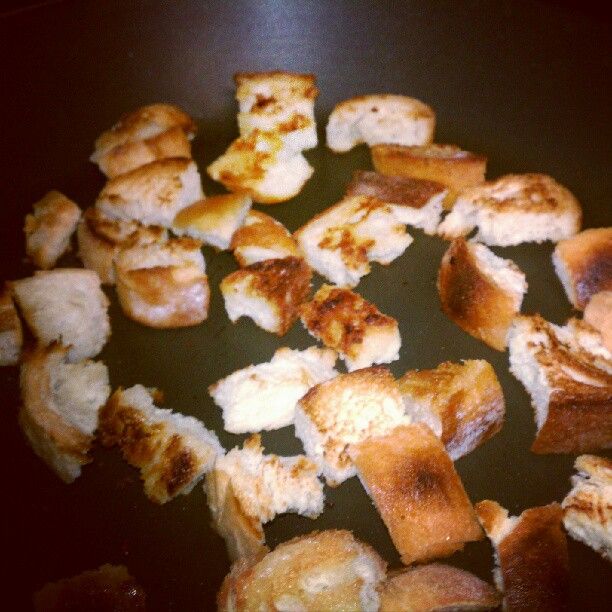 Only 4 ingredients for the dressing…Dijon mustard, olive oil, garlic, and fresh cracked black pepper! I omitted the Parmesan cheese to keep the extra unwanted calories at bay :)
Do you have any favorite salads for me to try? Feel free to link to it in the comments below :)
Hope you're having a wonderful Wednesday!
xoxo, kat
Lemon Caesar Salad with Homemade Croutons (via Spoon)
1 bag of Caesar salad mix
2 tablespoons Dijon mustard
2 garlic cloves, pressed
juice from half a lemon
freshly cracked black pepper, to taste
4 tablespoons of olive oil, plus more for croutons
Directions:
to make croutons…
To make the croutons, add about a tablespoon of olive oil to a frying pan and heat over a medium flame. Tear or chop the stale bread into inch pieces and toss into the pan.
Toast until golden, tossing occasionally, about 3-4 minutes. Let cool on a paper towel, and toss lightly with salt. Store in an airtight container once cooled for future use.
to make dressing…
In a small bowl, combine the Dijon mustard, pressed garlic, lemon juice, and freshly cracked pepper.
While stirring continuously, drizzle the olive oil in until the dressing is emulsified and is tasty, about 3-4 tablespoons of oil.
Add more pepper, and a bit of salt if desired. Don't worry if the dressing breaks (oil separates.) Simply whisk it back together and add a dash more mustard or lemon juice however, chances are no one will notice a broken dressing. Store leftover dressing in an airtight container in the refrigerator for future use.
---
Posted: October 30, 2011
Filed under:
sides recipes
| Tags: Balsamic vinegar, Basil, caprese, caprese salad, chopped caprese salad, Insalata Caprese, Mozzarella, Salad, Tomato
5 Comments »
Being such a smartie pants, I thought that pairing a light salad with a roasted pork tenderloin would counteract the heaviness that is meat and prevent me from falling into a massive meat-induced coma. Oh boy, was I wrong! As usual, I plopped myself onto my boyfriend and fell right asleep :)
This has to be the simplest and yummiest salad  I've ever made! I really can't call this a recipe because well… it's so easy! Here are the suggested instructions and it can be made in any order your heart desires….
---