Posted: August 1, 2012
Filed under:
sides recipes
| Tags: caesar salad, croutons, food, lemon, lemon caesar salad with homemade croutons, Recipe, Salad, sides
2 Comments »
Meet the faux Caesar.
Just as yummy as the original and equally delicious and sans anchovies! This has quite possibly become my new favorite citrus based salad dressing. It's all lemony goodness, so if you love lemons then this is the dressing for you! And the croutons…OMG why didn't I make an extra batch to munch on??!
This is such a great, quick, and easy way to make homemade croutons without touching the oven!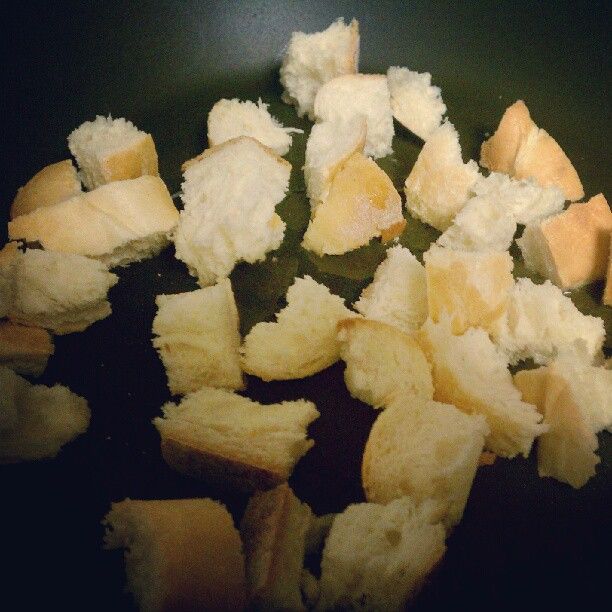 And look how crisp and golden they turned out just from a few minutes on a hot skillet!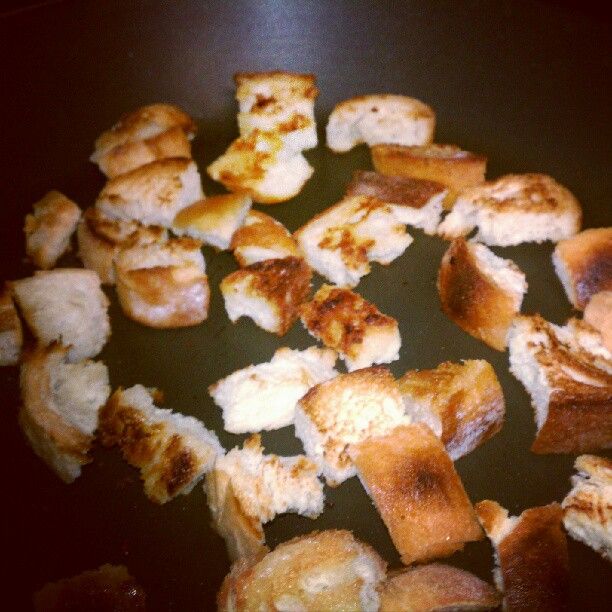 Only 4 ingredients for the dressing…Dijon mustard, olive oil, garlic, and fresh cracked black pepper! I omitted the Parmesan cheese to keep the extra unwanted calories at bay :)
Do you have any favorite salads for me to try? Feel free to link to it in the comments below :)
Hope you're having a wonderful Wednesday!
xoxo, kat
Lemon Caesar Salad with Homemade Croutons (via Spoon)
1 bag of Caesar salad mix
2 tablespoons Dijon mustard
2 garlic cloves, pressed
juice from half a lemon
freshly cracked black pepper, to taste
4 tablespoons of olive oil, plus more for croutons
Directions:
to make croutons…
To make the croutons, add about a tablespoon of olive oil to a frying pan and heat over a medium flame. Tear or chop the stale bread into inch pieces and toss into the pan.
Toast until golden, tossing occasionally, about 3-4 minutes. Let cool on a paper towel, and toss lightly with salt. Store in an airtight container once cooled for future use.
to make dressing…
In a small bowl, combine the Dijon mustard, pressed garlic, lemon juice, and freshly cracked pepper.
While stirring continuously, drizzle the olive oil in until the dressing is emulsified and is tasty, about 3-4 tablespoons of oil.
Add more pepper, and a bit of salt if desired. Don't worry if the dressing breaks (oil separates.) Simply whisk it back together and add a dash more mustard or lemon juice however, chances are no one will notice a broken dressing. Store leftover dressing in an airtight container in the refrigerator for future use.
---
Posted: July 17, 2012
Filed under: meat recipes, sides recipes
| Tags: appetizers, chicken, chicken enchilada nachos, enchiladas, food, nachos, Recipe, yard house
12 Comments »
The inspiration for these nachos actually came from Yard House. I would have to say that Yard House and Chili's (endless chips and salsa + margs! = the best!) are two of my favorite places for happy hour! My favorite shareable munchies from Yard House are their chicken nachos. If anyone knows the recipe for their chicken nachos, please please please let me know!
I tried re-creating it but it kind of just became my own strange concoction… This is so simple and a great last-minute make for emergencies!
---
Posted: September 7, 2011
Filed under: food from the sea recipes, Uncategorized
| Tags: crispy fish, Fish, food, fried fish, Lawry's, Panko, Recipe, seafood, Tilapia
6 Comments »
As promised, here's my recipe for Crispy Fish from last Friday's favorites! For crispy fish, you only need seven ingredients, and most likely you have them right in your kitchen already. This is a no-recipe recipe! It's more of an "add more as needed" type of recipe. Since this is a basic fried fish recipe, it's also goof-proof!
After my first horrific incident with making chicken katsu, I shied away from any recipes that require frying of any kind! The thought of hot oil popping and splattering all over face makes me worry, so my boyfriend usually takes over frying duties because he's manly like that. Anyways, I don't know what came over me last week but I took over frying duties! In fact, I told him to "shoo" hehe. He came back surprised and proud :)
My first solo frying experience went great! In fact, the whole meal turned out great! The fish was so crispy and crunchy on the outside, and soft and flakey on the inside.
Oh ladies, this is the dish to make for your man!!! My crispy fish is now one of my boyfriend's top fave meals that I make him! He loved it so much that he had seconds way before I even finished my first! It makes me very happy seeing him get seconds :)
Hope you guys enjoy this quick and easy idea for DIY date night! What are your date night ideas for this week? Ugh…that reminds me, I don't have a clue as to what I'm going to make for this week! Any suggestions for me?
---