I love date nights, but I love DIY date nights even more! For last (last) week's date night, we wanted to learn to make pasta. It was one of our 2012 resolutions!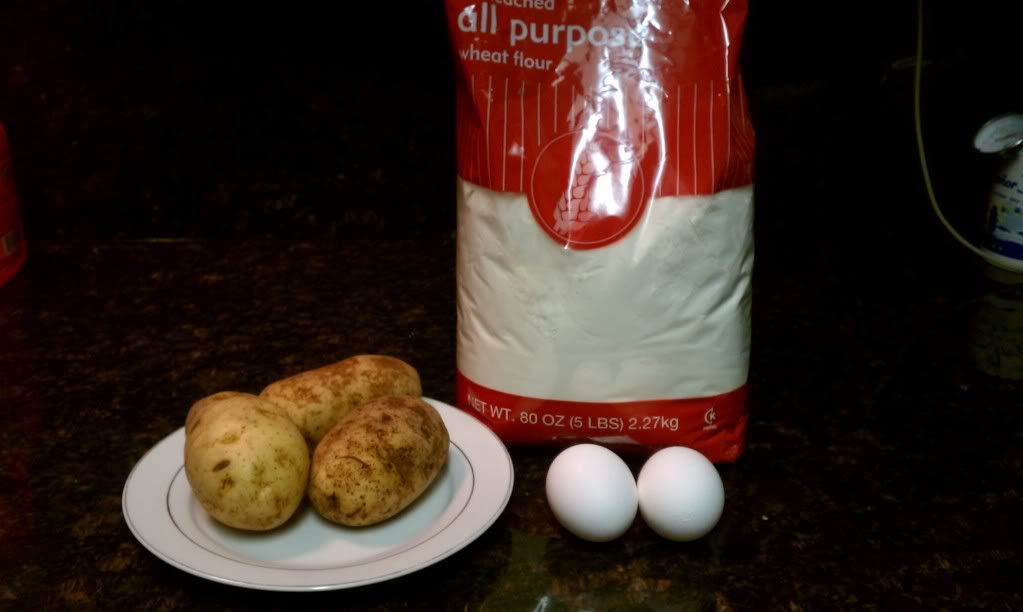 Did you know that this DIY gnocchi only requires 3 ingredients?! 3 simple ingredients that I'm sure you all may already have in your kitchen. That's right! With only a few potatoes, flour, and eggs you can have homemade gnocchi.
Keep in mind that there are no exact measurements when making gnocchi or any type of pasta for that matter. Just remember that the amount of flour used varies. We made our gnocchi based off of Food Wishes' One Potato Gnocchi video, please check it out for reference.
So, for potato gnocchi you will obviously need potatoes! First, you'll want to wash and dry your potatoes and then nuke them in the microwave until they are fork tender. Here we used 3 medium russet potatoes…
Be careful, hot potatoes!! Don't say I didn't warn you! :)
Once they are cool to the touch, use a spoon to scoop the insides and discard the potato skins. Using a spoon and a very fine sieve, push the potatoes through. This step requires a little bit of arm muscle, so ladies take a break and let your boyfriend do all the work :)
Once all the potatoes have gone through the grueling mashing process, you'll now have a big bowl of grainy potatoes. Crack and whisk one egg and pour that into the potatoes.