Posted: January 31, 2012
| Author: kat
|
Filed under:
meat recipes
| Tags: Bacon, food, Meat, meatballs, Meatloaf, menu, Paula Deen
|
8 Comments »
This is an update to an old favorite! Growing up as a child, I was deprived of such simple and delicious meals like meatloaf. It wasn't until my late teens that I finally had my first bite of meatloaf. And yes, it was love at first bite. Mmmmmm! Okay, what's the point of this? Errr I don't really know… I apologize :)
Anyways! New take on old favorite! Rather than a loaf, I shaped them into balls. Hahah, balls… Pourqoui Kat? Because every time I shape it into the most beautiful loaf you've ever seen in your lifetime, it always turns in a mountain of meat blob out of the oven. Not too appealing and photogenic, you know what I mean? And being my paranoid self, I am convinced that it is never cooked evenly, especially the middle.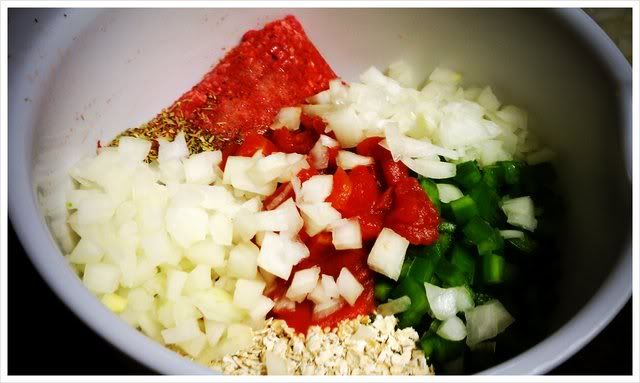 To make these meatloaf balls, feel free to use your favorite meatloaf recipe but I am a tad impartial (and always will be) to Paula Deen's Old Fashion Meatloaf. The key to making perfect uniform balls…a cupcake pan!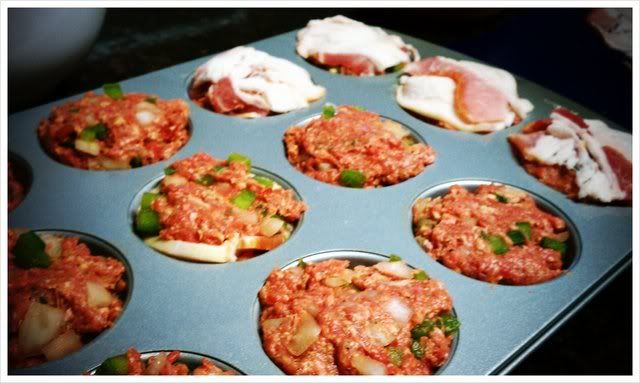 This next step actually came from a friend's wife. He's been raving about his wife's meatloaf on Facebook for as long as I can remember and he and his wife were kind to give me their secret ingredient…bacon! Delicious, fatty, amazing bacon! Cover each meatloaf ball with bacon. Oh, please be generous with this step. I'm only thinking of you :)
Did I mention that my favorite part of meatloaf is the ketchup+mustard+brown sugar glaze? Sure, it doesn't sound all too appetizing but when you mix them all together you get that delicious meatloaf sauce. I love Paula's recipe for this sauce so much that I actually doubled it!
While the meatloaf balls were baking in the oven, I washed and peeled some veggies for roasting…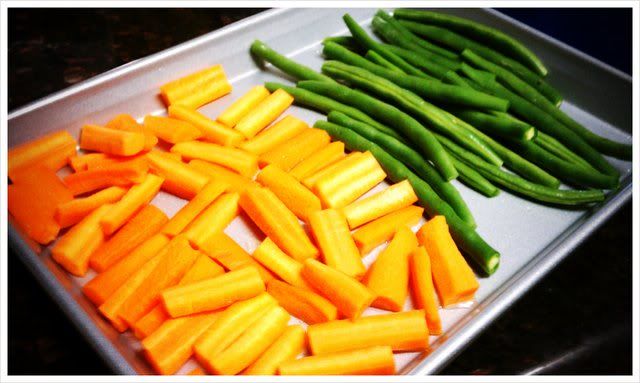 And added them into the oven with the meatloaf during the last half hour of baking.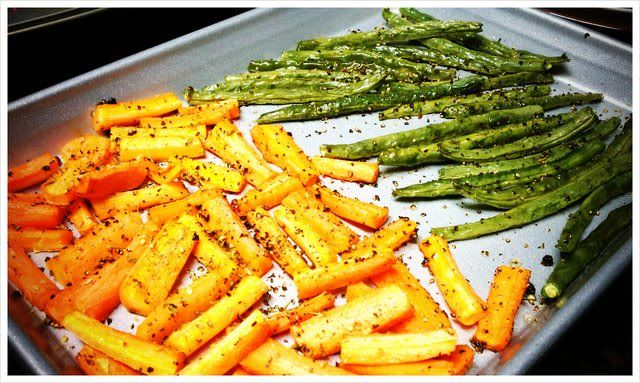 An hour later, this is what you get… amazing perfectly portioned mini bacon meatloaf balls!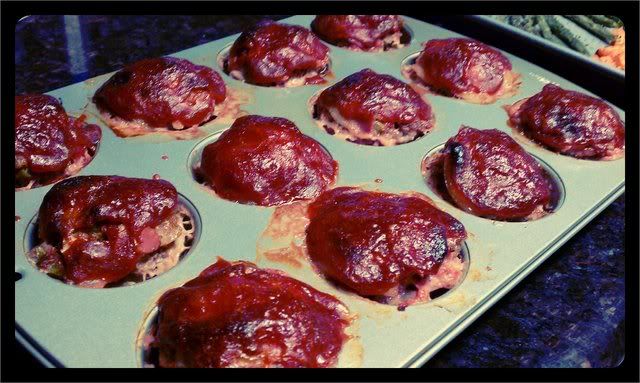 The best part about making these meatloaf balls is that they keep amazingly well in the refrigerator and taste even better the next day! Another fun way to adapt this into an appetizer for parties is to make them into bite-sized meatballs and serve with a toothpick… mini bacon meatloaf appetizer balls, how cute right!
xoxo, kat
ps. she cooks 12, he eats 3 :)
Mini Bacon Meatloaf Balls (adapted from Paula Deen)
makes 12 balls if using a cupcake pan
meatloaf:
1 pound ground beef
1 1/4 teaspoons of salt
1/4 teaspoon ground pepper
1/2 cup chopped onion
1/2 cup chopped bell pepper
1 egg, lightly beaten
8 ounces canned diced tomatoes with juice
1/2 cup quick-cooking oats
bacon
topping:
2/3 cup ketchup
4 tablespoons brown sugar
2 tablespoons prepared mustard
Directions:
Preheat oven to 375°.
Mix all meatloaf ingredients well.
Brush a cupcake pan with oil. Scoop meatloaf into the cupcake pan.
Cover each meatloaf ball with bacon. Feel free to cut the bacon slices.
Mix ingredients for topping and spread onto each meatloaf ball.
Bake in the oven for 1 hour.
---
Posted: August 15, 2011
| Author: kat
|
Filed under:
meat recipes
| Tags: food, Food Network, Meat, Meat Loaf, Meatloaf, menu, Paula Deen
|
1 Comment »
As promised from last Friday, here's last week's I'm-obsessed-with-Food-Network dinner! Meatloaf courtesy of butter queen Paula Deen, and the garlic mashed potatoes are from Food Network's cutest couple The Neely's. This was my second time cooking this meal, and it didn't disappoint this time around either! When you love it the first time, why not make it and eat it over and over again?  There are two things in my cooking repertoire that I know how to cook well and have no problems eating all the time. Those two things that I get raves about are my brookies and my baked ziti. Hahah, cookies and pasta…carbs, carbs, carbs, oh how you kill me! :)
Okay, okay, back to the meatloaf! Paula Deen's meatloaf is extremely simple and fantastic. This is the type of recipe that you can build and add more ingredients too, it's just the best basic meatloaf recipe there is! The first time I made it, I used bell peppers but this time around I opted for baby sweet peppers which gives the meatloaf some oomph, color, and sparkle. Hahah, just kidding! My favorite part of the meatloaf is the topping, it's delicious!! I keep telling myself "the next time I make this I want extra topping sauce", but I always forget! But for sure, more sauce next time! I can't get enough of the sauce and I love covering my meatloaf in it. Do you guys love the meatloaf sauce as much as I do?
Okay, enough of my babbles! Check out below on how to make your very own Paula Deen approved meatloaf and stay tune for part two featuring garlic roasted mashed potatoes!
Here's what you'll need to make Paula Deen's Old-Fashion Meatloaf…
Before mixing all your meatloaf ingredients together, start chopping…
---