Posted: May 1, 2012
| Author: kat
|
Filed under:
sides recipes
| Tags: baked cheesy fries, cheese, food, fries, menu, potatoes
|
8 Comments »
One of my new favorite things is making my own french fries! Okay, not that new lol (see here, here, and here :). I just love baking fries because it's a quick, easy and a healthier alternative to eating a snack that is normally deep-fried in oil.
Just like my previous french fry recipes, this one is no exception! Another easy peasy munchie to whip up last-minute or on the spur of the moment (ie, cravings)!
Cut potatoes into nice long skinny french fries, and then blanch in a bowl of cold water for a few minutes. Pat the fries until dry, drizzle with grape seed oil and season with Lawry's and fresh ground pepper…
Spread fries on a wire rack in a single layer and bake in a 425° oven.
Bake for 25-30 minutes or until the fries are brown and crispy…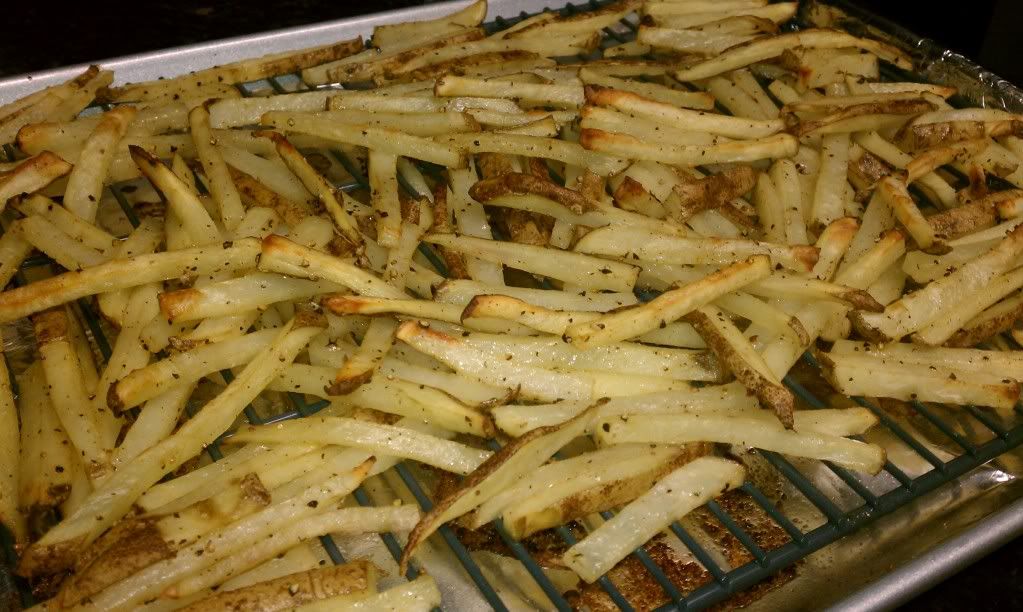 Eeek! I think I made way too many fries! You can either just remove the rack and use the same baking sheet or transfer the fries to a smaller baking dish. Here I've covered the fries with mozzarella, fresh grated parmesan cheese, and crumbled up some New York extra sharp cheddar! What's so great about this is that you can use whatever type of cheese you have in your fridge because any type of melted cheese is yummy! :)
---